Are handheld devices helping us learn other tasks?
So, electronic documents don't increase reading comprehension, but apparently do not detract from it either. Are handheld devices helping us learn other tasks?
Doug Boari, et al. (2012) studied whether or not handheld devices were enhancing our spatial skills. He and his colleagues presented participants with visual representations of 3-D objects (Mental Rotation Test pairs) and the task of determining if they were the same (simply rotated) or if they were not the same.
Participants went through three trials 'Äď one where they could only think about rotating the object ("mental rotation" only), one where they could touch the object on the screen to rotate it, and one where they could tilt the device to rotate it. Participants were equally accurate across the trials and across platforms (iPad and iPhone were used). However, response time was faster with mental rotation than with the devices, but it required more work. The devices allowed the participant to directly experiment with different rotations, resulting in a slower trial-and-error process, but less reported effort.
Interestingly, during mental rotations, some participants used their hand as an analogue to the object, turning it to "visualize" how the object might turn, but that did not affect overall response times. Also, participants were faster with the iPhone than the iPad. The team didn't have enough data to comment on the cause of this difference, but perhaps an iPhone is closer to simply rotating the hand than an iPad.
The handheld devices, therefore, did not appear to be augmenting skills, but rather exchanging mental load for physical load.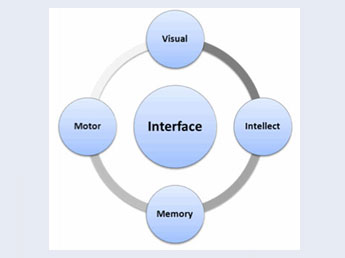 VIMM model presented in HFI design courses, showing the goal of good design is to reduce the load on these human systems